31.05.2022 // All Category
Written by PAW Media
What You Need To Know About Ferrari Service & Maintenance | Ferrari Servicing Guide
Ferrari makes some of the world's best performance & luxury vehicles. So having an adequate Ferrari Servicing & Maintenance schedule is fundamental for any Ferrari owner! Considering that Ferrari only produces 7,000 cars per year across all models, we have created a service guide, specifically for Ferrari owners.

With our Ferrari Service & Maintenance guide, you can prolong your Ferrari's life, value, and performance. Driving will inevitably cause natural wear & tear to your Ferrari. However, by adhering to our guide and visiting your local Ferrar service centre you can drastically improve your Ferrari's value and performance.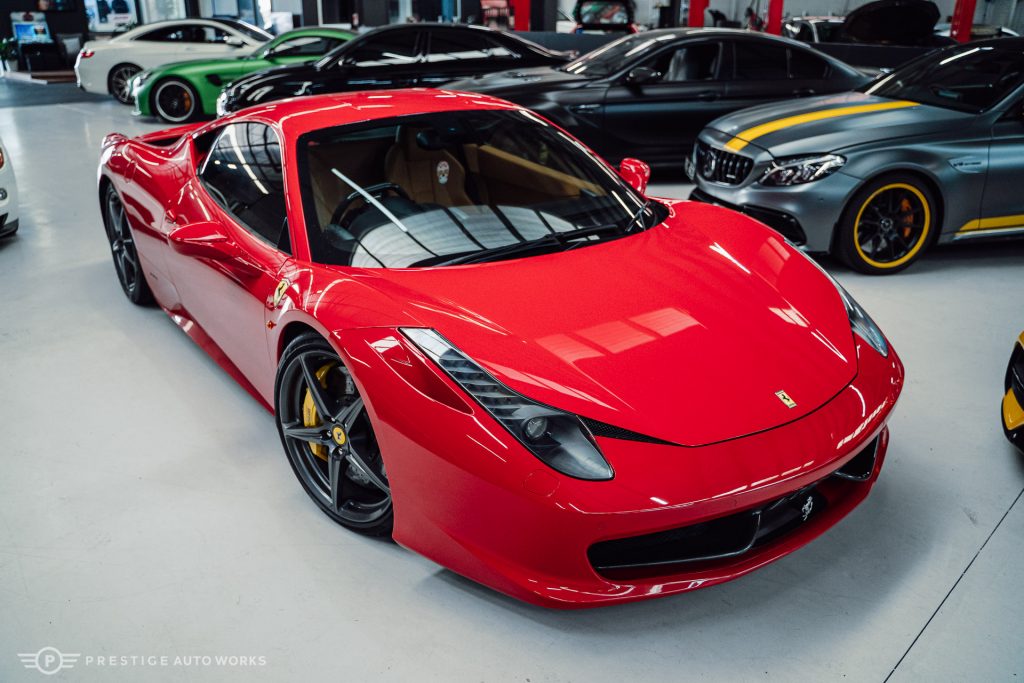 Ferrari Service Cost & Frequency
When To Get A Ferrari Service?
Ferraris can typically go 15,000KM before requiring a minor service (oil change). Some luxury vehicle brands typically require a service every 5,000 – 10,000KM. This helps minimise the Ferrari service cost for you!

The servicing schedule for Ferrari is generally based on increments of 10,000KM – 15,000KM. However, this is dependent on your driving style, environment and model/year. These increments or service intervals mean that with every 10,000KM-15,000KM, you will require the expected oil change, however with every 20,000KM-30,000KM you will require additional maintenance.
Additional maintenance, inspections & replacements include but are not limited to:

– Brake Fluid
– Coolant
– Leaks (within engine area and below vehicle)
– Air Filter Checks
– Electrical Checks
– Headlight Controls
– Wiper Blades
– Tyres & Tyre Pressure
– Battery
– Any other potential malfunctions
However, given that very few Ferrari owners drive their cars to this extent, you can expect very few major services.

To get a quote on your next Ferrari service in Melbourne, click here

Ferrari Service Cost
Your Ferrari Service Cost is highly dependant on various factors. This includes: driving style, amount, environment and model/year of vehicle.

With more frequent, harsher driving – you can expect your Ferrari service costs to go up. However, with less frequent and gentler driving, your service costs are much more likely to go down.
Ferrari Paint Protection & Car Washing Guide
Another core aspect of Ferrari maintenance is caring for the exterior and interior of your Ferrari. This includes adhereing to an appropriate cleaning guide for your Ferrari. It is always recommended to visit your Ferrari Service in Melbourne to learn more.
Ceramic Coating For Paint Protection
Cereamic Coating refers to using either a silicon carbide or silicon dioxide coating to fill in porous spaces on the exterior paint of the vehicle to create a smooth and glossy look and long-term protection. Many dealerships offer a paint protection package with the sale of a new vehicle. The products offered in those packages are typically not as effective as ceramic coatings.
In addition to a glossy and smooth look, ceramic coating only requires a single application every few years. Traditional wax however may only sustain a glossy look for a couple weeks. Therefore, waxing in the long-term (on a regular basis) can cost significantly more than a single, one-off ceramic coating.
Protectant On Interior Surfaces
Interior surfaces such as upholstery, steering wheel, carpets/mats and centre consoles are highly susceptible to degredadation, aging and wear & tear. Surface protectants and coatings are therefore recommended to reduce the degredation on leather and vinyl surfaces. We recommend finding a reputable product that prevents UV damage, stain and liquid damages.
By adhereing to a rigid cleaning and caring protocol for your Ferrari, you can drastically improve the value of your car! Although it is equally important to care for your Ferrari's engine and performance. Protecting your car's exterior and interior is fundamental for longevity and high-resale value.
What If My Ferrari Has Performance Upgrades?
If your Ferrari has a performance tune or any form of hardware/software upgrades, your service and repair schedule may differ. Hardware upgrades such as Ferrari intakes, Ferrari exhaust systems and intercoolers alter your vehicle and its performance. To adjust for this, we recommend a more frequent service and repair schedule. Hardware/Software upgrades require greater attention to detail from a Ferrari Performance Specialist.
Ferrari Factory Recommendations
Our Ferrari servicing recommendations are based on the factory guidelines from Ferrari. For further detail and recommendations, please contact us to or visit a Ferrari Service Centre near you.