08.04.2022 // All Category
Written by PAW Media
Top 5 VW Performance Mods for your MK7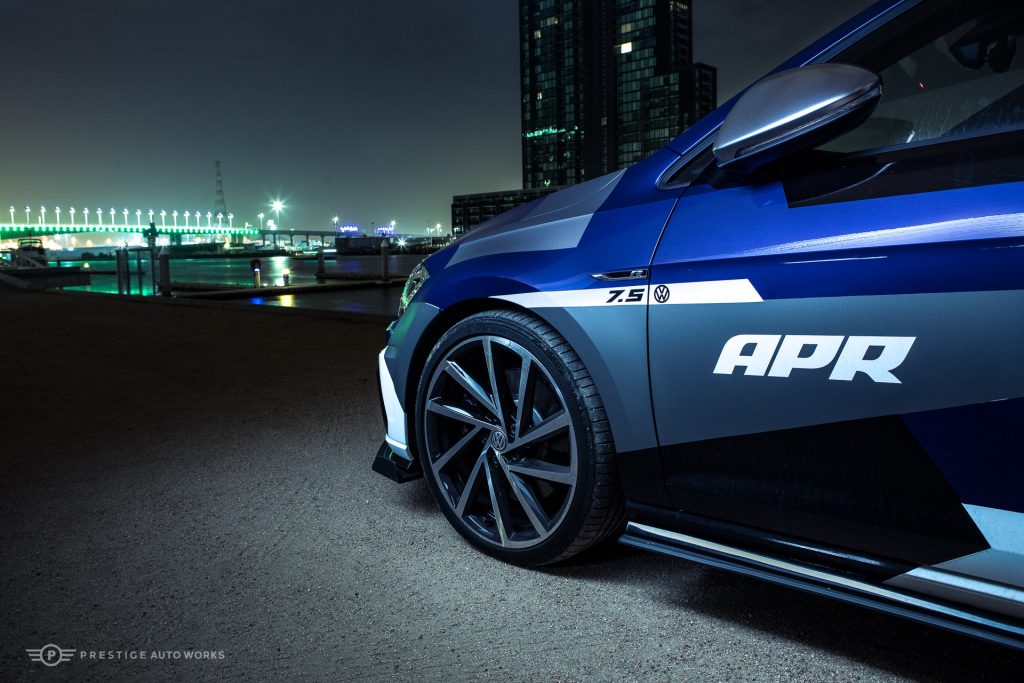 The VW MK7 – GTI, Golf & Golf R are exceptional cars with very modifiable platforms. We've put together a list of the first 5 VW mods that you should carry out to your MK7. The VW mods that list below are in an order that we recommend to carry out your performance upgrades. However, very few people have unlimited budgets so you can adjust the order to your preferences.

We always recommend that you take your car to a European Car specialist for all of your VW performance upgrades.
1. ECU Tune
An ECU tune refers to software that alters the settings of your 2.0T engine. It adjusts the boost, airflow, timing and fuel to gain more horsepower and torque out of your VW MK7. A VW ECU tune is definitely the first performance upgrade you should carry out for the most performance gain and value for your money! With a VW MK7 ECU Tune, you can typically expect an increase of ~50HP and 80Nm of Torque. There are a few software tuning companies that we personally recommend. APR & PAW Motorsport are two reputable software tuners that you can access here in Melbourne for your VW ECU tune.

2. High-Performance Cold Air Intake
The stock intake system on your VW MK7 is designed to balance comfort and efficiency and has little room for performance. As a result, the factory intake systems are more restrictive than aftermarket upgrades which are designed to optimise performance. We recommend upgrading to a high-performance cold-air intake because it removes the restrictions created by the factory intake. To maximise performance and airflow, we recommend upgrading to a complete intake system that also removes the stock airbox.

3. High-Flow Downpipe
Installing a high-flow downpipe on any VW MK7 means serious business. And if you're serious about getting the most horsepower, torque and performance out of your MK7, then a downpipe is the next logical step up. The factory downpipe is the main restriction point in the exhaust of the MK7. The stock downpipe tends to restrict the performance of your VW because it aims to adhere to emission regulations and balances comfort and efficiency. We recommend installing a de-catted downpipe for maximum performance gain. With a Stage 2 ECU tune, you can expect a ~90HP and 120Nm of Torque gain from stock

Please visit your local VW Melbourne Specialists for all of your VW performance upgrades
4. Suspension Upgrades (Coilovers or Springs)
Suspension Coilovers or Springs for your VW MK7 are a great VW performance mod for better handling.
You typically have 2 options when it comes to lowering your MK7 – Springs or Coilovers. Springs are an affordable option that lowers your VW vehicle with lower costs! However, the one consideration for springs is the factory shocks are not adjusted to the height you are lowering to. This may present minor issues depending on how low you drop your VW MK7.

Coilovers are typically the more expensive option, however, allow you to adjust the height of your MK7 to get the exact stance you like! There are a variety of Suspension Coilover options in the market that we supply and fit. Contact us now for all your options available!

5. Intercooler
Assuming you've carried out all of the prior VW performance mods, the stock intercooler on your MK7 can become heat soaked. Heat soaking occurs when your intercooler is unable to dissipate the heat from the turbo fast enough thus unable to cool the charge air and ultimately losing performance. To solve this problem, we recommend upgrading your stock intercooler to an aftermarket performance upgraded intercooler. A thicker, more efficient intercooler will allow the engine to cooler air and improve performance and power. There are also various options for aftermarket intercoolers available. Please contact us for the supply & fit of various performance aftermarket options.